Andrew W. Horrocks, MBA '92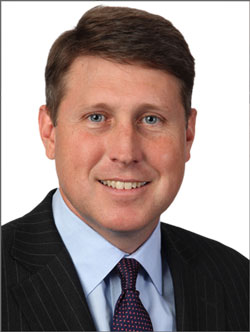 Andrew W. Horrocks, MBA '92
Andrew Horrocks was an investment banker for 24 years, most recently with Credit Suisse Group, where for the past six years he was Global Head of the Transportation and Automotive Group, based in New York. He began his banking career at Bankers Trust Company in 1992 before moving four years later to Dillon, Read & Company, which ultimately became part of UBS in 1998. While at Credit Suisse, Mr. Horrocks was also a member of the Investment Banking Committee, which had responsibility for reviewing and approving the firm's securities transactions.
Mr. Horrocks has advised and financed public and private companies, governments, financial sponsors, and family offices in connection with dozens of mergers, acquisitions, divestitures, public and private debt and equity financings, and restructurings, spanning multiple industries and sectors of the global economy. His clients have included American Airlines, Case New Holland, the Federal and Provincial Governments of Canada, CSX, Federal Mogul, Fiat, Ford Motor Company, Gaslog, General Motors, Rockwell, Seaspan, Teekay, and Textron, among many others. His client work has ranged from M&A advice to large, multinational enterprises to private placements for small-capitalization companies.
Mr. Horrocks has a Master's degree in Business Administration from Cornell University and a Bachelor's degree in Business Administration with a concentration in accounting from The College of William and Mary, and he became a Certified Public Accountant. While a graduate student, Mr. Horrocks served as a White House intern at the Office of Management and Budget.
Mr. Horrocks is a Foundation Trustee at The College of William and Mary. He also serves as a Director of Student Sponsor Partners, a charitable organization dedicated to providing educational opportunities to at-risk youth in New York City.