Meredith Ryan-Reid, MBA '07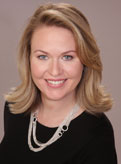 Meredith Ryan-Reid, MBA '07
Senior Vice President, Distribution Development & Marketing
Meredith Ryan-Reid serves as senior vice president of the Distribution Development & Marketing organization. The organization supports all markets and is responsible for marketing, wholesaling, field support, enrollment & benefits delivery and external distribution development for MetLife's Group, Voluntary & Worksite Benefits business. She was named to this position in February 2016.
Prior to her current role, Ryan-Reid led the Accident & Health group and the Product Specialist Organization for MetLife's Group, Voluntary and Worksite Benefits. She was responsible for the overall growth, profitability and product offerings for the A&H business, which includes Critical Illness, Accident, Cancer Insurance and Hospital Indemnity, as well as the product specialists who provide product training and deep subject matter expertise to sales associates.
Ryan-Reid joined MetLife in November 2013 from Starr Companies, where she ran the North American Accident and Health Division. Before joining Starr, she worked on the brokerage side of the industry, producing new business and managing large client relationships for Marsh and Mercer.
Prior to Marsh, Ryan-Reid spent ten years on the insurance carrier side of the business in underwriting, sales and management roles at both CIGNA and AIG.
Outside of work, Ryan-Reid volunteers her time and serves on the boards of the American Association of People with Disabilities (AAPD) and The Center for Discovery. She also serves as her Alumni Class President and a member of the Johnson School Advisory Council, Cornell University's business school.
She received her MBA from Cornell and her Bachelor of Arts from the University of Richmond. She lives in Manhattan with her husband and two daughters.