Antonio M. Alvarez III, MBA '91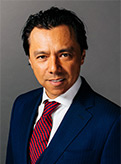 Antonio M. Alvarez III, MBA '91
Mr. Alvarez is a managing director of Alvarez & Marsal Europe, Ltd., a global professional services firm specializing in turnaround and interim management, performance improvement and business advisory services. Mr. Alvarez heads up the firm's European arm, which is headquartered in London with offices in Paris, Munich, Frankfurt, Amsterdam, Madrid, Milan, Warsaw and Moscow. His father co-founded the company in the US back in 1983.
Mr. Alvarez has spearheaded the restructuring or transformation of several major companies. Prior to coming to Europe in 2001, Mr. Alvarez lived in New Jersey and served as Chairman and CEO of Long Manufacturing Inc. and as President of Beaver Creek Holdings, LLC, which are both connected to Alvarez & Marsal. Since living in Europe, he has acted as the Chief Restructuring Officer and Director of a leading international specialty chemicals manufacturer based in Switzerland with operations in 35 countries; European Restructuring Officer of Bridge Information Systems (some 40 companies); Chief Restructuring Officer and Director of Edcon Group, Chief Restructuring Officer of Abengoa Group and Chairman of Ayming Group based in France.
Mr. Alvarez holds an undergraduate degree from Notre Dame and studied abroad at the Université Catholique de L'Ouest in France before attending the Johnson School. He also studied at the Université de Louvain-La-Neuve in Belgium as a graduate student. Mr. Alvarez has six children. His eldest son, Antonio Pierre Alvarez IV 2014 is a recent graduate of the College of Agriculture and Life Sciences.