Helen Shan, MBA '93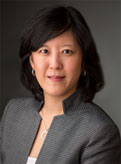 Helen Shan, MBA '93
Chief Financial Officer, Mercer
Helen Shan is Chief Financial Officer of Mercer responsible for its global finance and strategy functions as of October 1, 2014. She is also a member of Mercer's Executive Committee. Previously she was the Vice President and Treasurer of Marsh & McLennan Companies with oversight of the company's global treasury operations, including capital management, pensions, investments, and cash management. She joined MMC in April 2013.
Prior to Marsh & McLennan, Ms. Shan was the VP Finance and Treasurer at Pitney Bowes Inc., where she had global responsibilities for treasury, corporate development and investor relations. Prior to Pitney Bowes, she was at JPMorgan Securities, where she served in a variety of roles, including Managing Director, Diversified Industries. Ms. Shan began her career as a Quantitative Analyst/Controller at Salomon Brothers.
Ms. Shan holds an MBA from Johnson at Cornell University and dual undergraduate degrees from the University of Pennsylvania's Wharton School of Business and School of Applied Science and Engineering. She currently serves as a member of the Johnson Advisory Council.