Marmeline Petion-Midy '95, MBA '00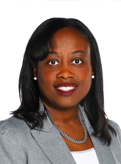 Marmeline Petion-Midy '95, MBA '00
Head of FP&A, Americas Marketing
Marmeline Petion-Midy is currently Vice President, LFO US Marketing at American Express, where she partners with the marketing organization driving U.S. card acquisition and provides financial decision support to the marketing leadership team. Previously, as Head of FP&A, Global Marketing at Invesco, Marmeline was responsible for strategic planning and budgeting, financial reporting, profitability reviews, and financial planning and analysis for the organization.
Marmeline joined Invesco through its acquisition of OppenheimerFunds in 2019 where she was VP, Business Controller supporting Sales & Marketing.  Prior to OppenheimerFunds, Marmeline worked for General Motors Treasury in NY rotating through various functions including Capital Markets where she helped GM raised several large tranches of long term debt and managing the short-term cash portfolio, in Business Development working on Mergers & Acquisitions and troubled suppliers, in Planning and Analysis covering GM Do Brasil and in Pension Accounting overseeing GM's large pension liability.  She started her career with The Bank of New York where she rose to Assistant Treasurer before leaving to pursue her MBA.
Marmeline served three years as Board President for St. Joseph School, a private catholic school in NY and is now an Advisory Council Member for Cornell SC Johnson Graduate School of Management.
Marmeline earned both a BA in Economics (School of Arts and Sciences) and an MBA in Finance (SC Johnson Graduate School of Management) from Cornell University.  Marmeline is also a Certified Corporate Financial Planning & Analysis Professional™ (FP&A™).  She is fluent in French.
She resides on Long Island, NY with husband Mario and daughters Cayla and Kira.