Rebecca Shaghalian Larkin, MBA '98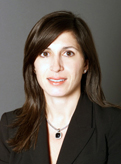 Rebecca Shaghalian Larkin, MBA'98
Rebecca is co-head of the North American Equity Derivative Sales business for the Securities Division. She began her career at Goldman Sachs as an associate in Equity Derivative Sales in 1998. After eight years in sales, Rebecca led the North American Securities management team for both sales and trading and then co-managed the Global Institutional Sales force. She was named managing director in 2005 and partner in 2008.
Rebecca serves on the Advisory Board of the Make-A-Wish Foundation and also serves on the President's Council of Cornell Women.
Rebecca earned a BS in Business from Babson College in 1991 and an MBA from the Samuel Curtis Johnson Graduate School of Management at Cornell in 1998.