Cornell Case Competition for Family Ownership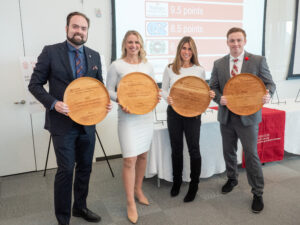 CONGRATULATIONS! 
The First Cornell Case Competition for Family Ownership was held November 4 & 5, at Cornell Tech in New York City. Five teams competed over two days with a live case using Cosan as our subject. This was a real-world experience with a complex, multi-national business.
The Cornell Johnson Graduate School of Management team, consisting of Erica Wiebe, Curtis F., and James Myron, finished in first place, and all teams had an incredible showing throughout the competition, Olin Business School at Washington University, UNC Kenan-Flagler Business School, Babson College and SPJIMR SP Jain Institute of Management & Research.
We also recognized the following contributors at the conclusion of the competition:
– Best Presenter – Malay Shah, UNC Kenan-Flagler Business School
– Ambassador Award – J. Alex Albarracin, Cornell University
– Judges Award – Petru Sandu, Elizabethtown College
– Coaches Award – William Gartner, Babson College
Thank you to those who served as judges throughout the competition, including Veronica Maldonado Degwitz '93, Marcelo Martins, Kevin Omar Williams '99, Annie Van Fossan, Judy Lin Walsh, and Steven Gal '88, who also authored the case.
Thank you, especially to BanyanGlobal Family Business Advisors and Rob Lachenauer '83 for their unwavering support of this competition.
The Cornell Case Competition for Family Ownership offers current graduate students a unique opportunity to examine a family enterprise case up close, alongside the family themselves. Take the collaborative elements of a hack-a-thon, combine the analytical elements of a case competition, and include the top MBA students in the world and you have the Cornell Case Competition for Families Ownership. This is a first of its kind event for students and family business experts to demonstrate their understanding of the issues critical to family enterprise. This first-time event will bring together students from leading business schools, select advisors, faculty, and family enterprise leaders sharing their challenges first hand to receive real-time feedback and ideas concerning the future of their enterprise.
The Case
The case will feature family members and senior leadership of an active global family-owned enterprise. The case is written by a Cornell faculty member, under the guidance of the Smith Family Business Initiative. The first part of the case will be sent to teams 7 days prior to the competition. Teams will have one week to prepare their Part A which will be presented on Day One of the competition. Part B will be presented to students after the first round is complete. Teams will have the remainder of the evening and next morning to complete their case analysis.
Team eligibility:
Teams must consist of 3 current graduate levels students at the time of the competition, and one coach (optional). The coach can be a university faculty member, mentor, or other person affiliated with the university program.
Only one team per school or university is permitted. The 2nd team from each school may register as a backup and will be waitlisted and notified when eligible.
The first 8 teams to complete the application and payment process will be accepted into the Cornell Case Competition. Team payments are non-refundable. All other teams will be entered onto the waitlist in the event that a team cannot compete or pulls out of the competition.
2023 Schedule
Friday, November 10, 2023
Saturday, November 11, 2023
11:00 a.m.
Registration and networking
8:00 a.m.
Breakfast
11:30 a.m.
Kick-off lunch
9:00 a.m.
Second-round case presentations begin
12:30 p.m.
Welcome message
12:30 p.m.
Second-round case presentations conclude
1:30 p.m.
First-round case presentations begin
1:00 p.m.
Lunch
5:30 p.m.
First-round case presentations conclude
2:00 p.m.
Presentations of awards and finalists
6:30 p.m.
Dinner
7:00 p.m.
Discussion with company representatives
8:00 p.m.
Second Case – Distributed
Schedule may be subject to change. 
Interested in participating, sponsoring, or judging? Please contact Daniel Van Der Vliet, the John and Dyan Smith Executive Director of Family Business at dgv9@cornell.edu to learn more.
Competition Sponsors
Successors Level Supporter
Legacy Level Supporter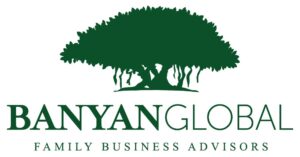 BanyanGlobal is an advisory firm that specializes in helping families transition their family enterprises from one generation to another. Our clients are owners of shared assets such as operating businesses, family offices, and family foundations. We partner with our clients to help them make difficult decisions that span their family, business, and ownership interests. Our sweet spot is working in family ownership situations that are complex, emotional and/or stuck. We help these family owners to align their goals, build trust and effective communication skills, and set up governance structures for sustainable decision-making and coordination. Together, we have helped over 200 family businesses from 20 countries on six continents successfully transition.