Two-Year MBA Fintech Intensive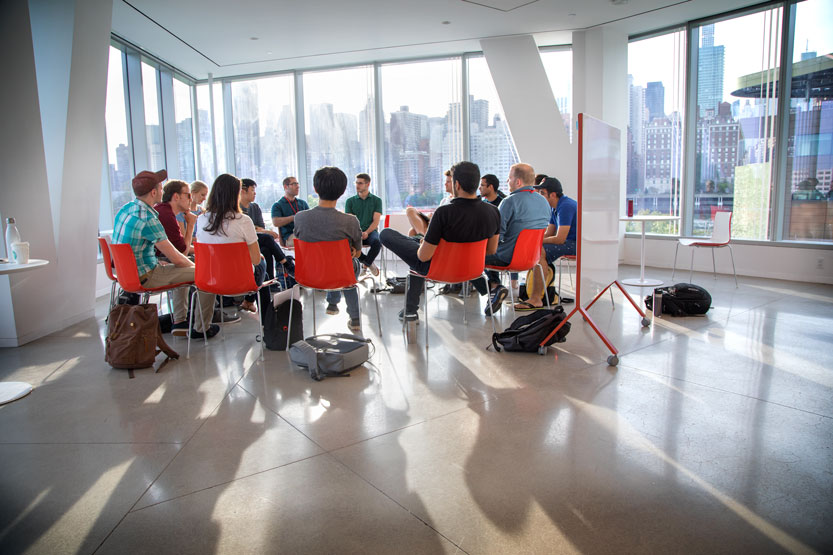 Immerse yourself in the emerging Financial Technology sector and gain a deeper understanding of the current and future Fintech landscape.
The Fintech intensive provides hands-on learning in the emerging financial technology sector. A confluence of events and trends have set the stage for large-scale technological disruption of the financial services industry. Financial institutions are keenly embracing the digital economy, and banks have renewed their focus on technology-driven products and market innovation.
Career paths
The Fintech Intensive is designed for students preparing for careers in finance, tech companies or entrepreneurship.
Curriculum details
The structure of the intensive includes four industry-specific courses taught over the first seven weeks of the spring semester. The Fintech Intensive exposes students to startup ideas and ventures, technical concepts, and real-world case studies of technology applications in multiple areas of the financial services industry.
Students work in integrated teams formed from our residential MBA programs. Through our collaborative and interdisciplinary approach, students work on a project that puts their coursework into practice.
A sample of coursework includes:
Blockchains and Cryptocurrencies
Students gain a keen awareness of all things blockchain and crypto
Topics covered include bitcoin, the Blockchain, and proof of work
Guest lecturers speak on issues such as legal aspects of crypto currencies
Business Models
Provides students with the opportunity to construct a business model and an understanding of how to scale for high-growth
Covers topics of entrepreneurship and investment activities
Students develop the ability to better evaluate and improve their own skills, talents, and career
Fintech Practicum
The capstone of the intensive, the fintech practicum focus on different aspects of the industry for a holistic understanding of the fintech landscape
Each class is led by a distinguished fintech industry expert
Concludes with a business plan pitch competition where students present early-stage fintech-related business ideas to a panel of Venture Capitalists
Fintech Group Field Project
Students gain first-hand experience and put their coursework into practice by working with clients on real-world projects
Fintech Intensive BusinessFeed
August 5, 2020
Johnson MBA programs recently received top recognition for strengths in finance, fintech, and tech-sector business.
May 24, 2019
Matt Ford details his experience in the fintech intensive at the Cornell Tech campus on Roosevelt Island in New York City.
April 5, 2019
Betterment's Ben Alden is one of the many market-changing leaders to visit Cornell Tech and discuss their industry's technological shifts.