2020 Keynote Speaker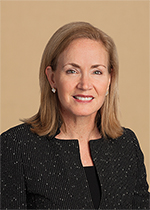 Dana Morton Emery
Chief Executive Officer and President
Dana Emery is Chief Executive Officer and President at Dodge & Cox. She joined the firm in 1983, and is a member of the Fixed Income and Global Bond Investment Policy Committees, Business Strategy Committee and the Board of Directors. Dana is a shareholder of Dodge & Cox and a Trustee of the Dodge & Cox Funds.
Dana holds a B.A. from Stanford University. She is a CFA charterholder and a Chartered Investment Counselor. Dana is the Founding Co-Chair of The Credit Roundtable and a former Chairman of the Treasury Borrowing Advisory Committee. She is a member of the National Board of Directors of Summer Search and is a member of the UCSF Board of Overseers. Dana is a member of the Fixed Income Analysts Society, Inc. (FIASI) Hall of Fame. Dana and her husband live in San Francisco and have three sons, ages 22 to 28.
Established in 1930, Dodge & Cox is an independent investment management company with $300 billion in assets under management. Ownership is limited to active employees of the firm.
Dodge & Cox's investment strategies include U.S., International and Global Equity and U.S. Core, Short, Intermediate, and Long Duration Fixed Income. Dodge & Cox manages assets on behalf of a wide variety of institutions, financial intermediaries and individuals via the Dodge & Cox Funds and separately managed accounts.
Dodge & Cox manages investments from one office located in San Francisco, California. Dodge & Cox also has a London subsidiary to service non-U.S. investors in its offshore funds (UCITS).